Our space, along with its associated services and partnerships, provides you with the resources to enrich and develop your projects.
Work alone or with others in a professional atmosphere where autonomy, tranquility, sharing, and mentoring are encouraged and valued.
Integrate interns or other hires with partnering opportunities in the international market.
Develop growth opportunities while efficiently managing risks and costs.
FIND YOUR PEACE OF MIND
Space

Open

Hours

Purpose

Open Space, "Oceania" (

40m

2

/430ft

2

)

Mon-Fri

(day)

8:30 am-6:30 pm

Coworking

Open space

Mon-Fri (evenings)

6:30pm-11:30pm

Meetings, Trainings, Conferences, Workgroups

Open space

Sat-Sun

8:30am-11:30pm

Meetings, Trainings, Conferences,  Workgroups

4 individual studios, "Africa" / "Americas" (

8m

2

/90ft

2 each

)

"Antarctica" / "Eurasia" (15m2/160ft2 each)

Mon-Sun

24/7

Tranquillity, Confidentiality,  Meetings
We offer an international workspace in a community made up of workers both local and international!
❃ Oceania: open space
(40m
2
)
Our "open space" for collaboration with others
"Where brainstorming creates waves and waterfalls of knowledge. Here, these droplets of rain never cease to fall because your thoughts never cease to formulate and change." – Allie Tankel
❃ Americas or Africa: individual studios (8m2 each)
Or 
❃ Antarctica or Eurasia: individual studios (15m2 each)
"If you prefer the land over the sea, travel to one of our 4 continents: Eurasia, Africa, Americas or Antarctica, where your ideas are grounded and firm in your company's rich soil." – Allie Tankel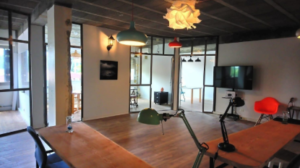 (Open space "Oceania" pictured above)